T1 is your dance partner for the electric boogaloo. Inspired by the genius whose progressive ideas in time helped power your buzzing pleasure devices, T1 is lightly textured along its length to provide extra sensations should you crave them. Its bulbous head is ideal for external and internal pinpoint stimulation.
If you crave maximum stability and hands-free fun, you can order T1 with a suction cup instead of a regular base. The suction cup sticks to all hard surfaces (shower tiles & bed frames, if you need ideas) and gives you more freedom during solo and partnered play.
Firmness
We offer our toys in five firmness grades: Super Soft, Soft, Medium, Firm, and Extra Firm.
What does that mean? / What does that feel like?
Super Soft (00-30) – very bendable and wobbly, very squishy, feels like you can pull it apart (please don't!).
Soft (00-50) – has quite a bit of squish and wobble, but maintains its shape.
Medium (A15) – has very little give. Consider this the go-to firmness for insertable toys if you're unsure which one to choose.
Firm (A30) – hard to squish, it almost completely retains its shape.
Extra Firm (A40) – impossible to squish, it completely retains its shape.

Also, keep this in mind:
Bigger toys can fall over if they're made from softer silicone (Super Soft and Soft): the base is firm, but the length is wobbly.

Because of their size, bigger toys are heavier and denser than small ones. That's why toys of different sizes may feel different when compared to each other, even if their firmness grade is the same.
Choosing colors/color combinations
The colors of your toy are completely customizable, meaning – you choose the colors you want (unless you choose the Surprise Me! option, in which case you let us surprise you with our choice of colors :).
Three different styles
You can choose between three pour styles and select how many colors you want (a single color or a combination of 2 or 3 colors):
Style 1: 1 solid color / 2 solid colors
Style 2: 1 special color / 2 special colors / 3 special colors*
Style 3: 1 surprise color / 2 surprise colors / 3 surprise colors*
*3 color options only applies to large size toy
There is a section with color swatches under each toy listing. You can also find detailed color descriptions in our Color Guide.
Color distribution
If you choose 1 color (solid, special, or Surprise Me!), the entire toy will be in that color only.
If you choose a combination of 2 or 3 colors (solid, special, or Surprise Me!), you will receive a toy in a combination of colors following this pattern:
Color #1 will be on the top of your toy.
Color #2 will be visible in the middle and bottom half of your toy (if you chose a 2-color combination, we will try to make the color distribution 50-50 so each half of your toy is made up of one color).
Color #3 will be visible in the bottom half and the base of your toy.
Materials
All of our products are made with high-quality, body-safe silicone: platinum cure silicone. That means your toys are safe for use, easy to clean, and very durable if stored and taken care of properly. It's very simple to do so – find out how here.
Size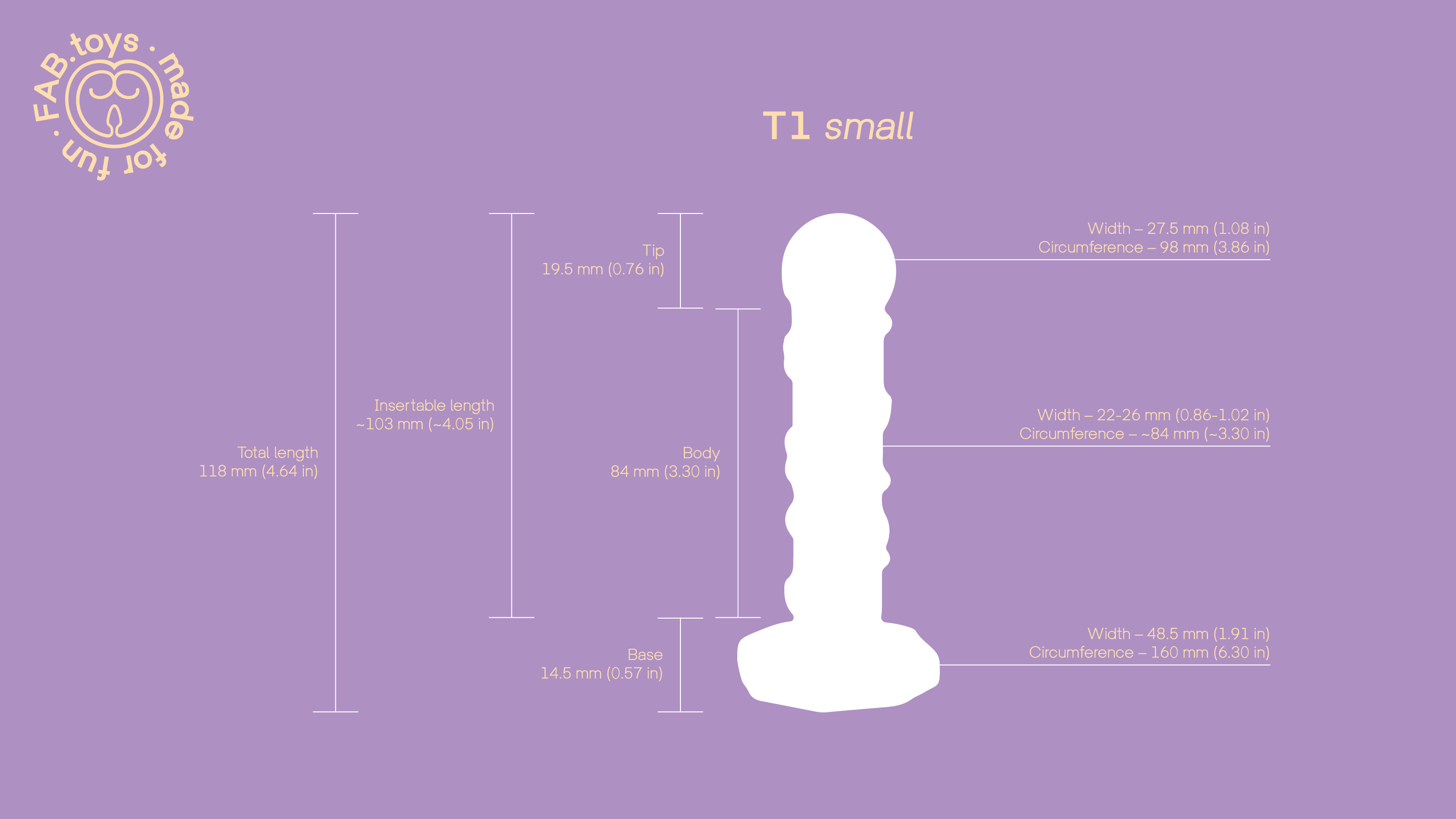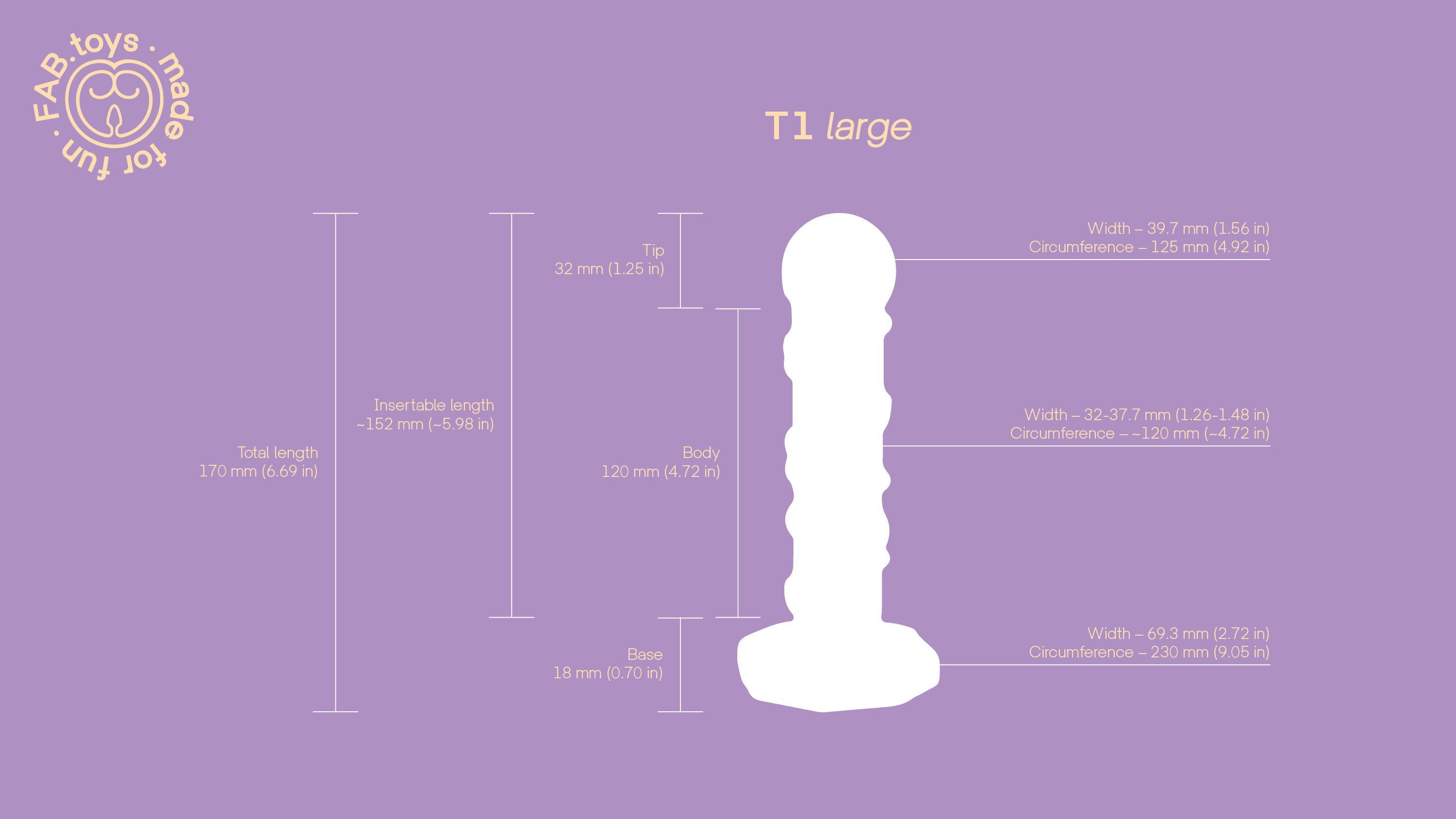 | | |
| --- | --- |
| Weight | 81 g |
| Size | Large, Small |